Our Cruise schedule for 2001:
The first Saturday of the month at the Sonic Drive-in on FM700.
Our first cruise is on April 7th at about 7:00 p.m. at the Sonic on F. M. 700. This will be a big event. We are working toward having a band, KBST live remote, T-shirt sales and fun, fun, fun unless daddy takes the T-bird away. All the proceeds from the cruise will go toward Christmas in April. Please make plans to attend. We will have a great time and it will help a great cause.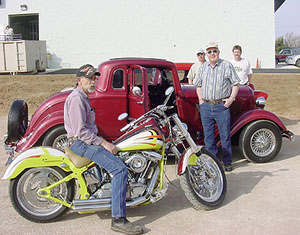 Big Spring Rod and Custom Car Club members Carl Hart (front left), Frank Edwards (middle), Jack Jones (back left) and Preston Harrison display some of the vehicles that will taking part in the club's Cruise Night set for Saturday at the Sonic Drive-In on FM 700. The event starts at 7:30 p.m. with almost 40 cars on display. The club will sell T-shirts with proceeds going to Christmas in April.
(reprint from The Big Spring Herald)